Events
On December 3rd, 2018 we organized our annual medical community giveaway. Nurses and doctors stopped by our new offices to pick up FREE boxes of gloves, disinfecting wipes, syringes, alcohol prep pads, bandages, hand sanitizers, tourniquets, tongue depressors, penlights, digital thermometers, hCG pregnancy tests, Strep A tests, Infectious Mono tests, specimen containers, patient gowns, exam table paper, drape sheets, pillow cases, and many other commonly used supplies for their practice. They enjoyed refreshments in a Christmas atmosphere and participated in a raffle for a $50 Visa card, compliments of our Platinum Sponsor Dynarex.
We also gave away several E-Scope otoscopes/ophthalmoscopes, compliments of Riester USA - a German manufacturer of exceptional quality diagnostic instruments.
If you are a clinic in the DFW area, please contact us at dfw@medequipdepot.com as we still have some items available and we would love to meet you!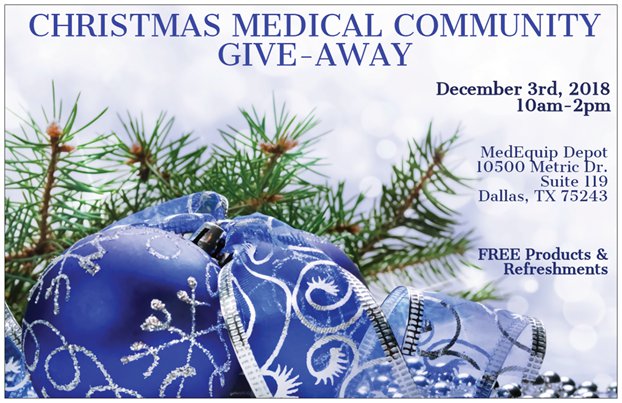 Donations made possible by MedEquip Depot in collaboration with our valued sponsors:
Platinum Sponsors: Riester USA, NDC Pro Advantage, Dynarex
Gold Sponsors: Dukal Corporation, Smiths Medical, Wondfo USA, and Micro-Scientific